Beauty & Self
Books & Music
Career
Computers
Education
Family
Food & Wine
Health & Fitness
Hobbies & Crafts
Home & Garden
Money
News & Politics
Relationships
Religion & Spirituality
Sports
Travel & Culture
TV & Movies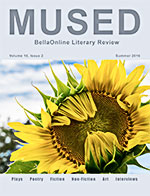 For many people, summertime is the perfect time to explore creativity. Plein air artists bring easels to gardens and beaches, showcasing nature's colors in oils, acrylics, and watercolors. Photographers ferret out a million sights to immortalize. Poets and writers stretch languidly beneath a shady oak tree, listening to the gentle buzz of insects, and constructing entire worlds out of the ether.

Enjoy the creativity of our community of artists - and then explore your own! We'd love to see your works for upcoming issues!

Summer Solstice 2016 issue of Mused

Secret Clinical Strength Smooth Solid Review
Body Care - BB Lee, Editor

Secret Clinical Strength Smooth Solid is suppose to deliver customized protection to you instantly. Read my review on this deodorant before you buy.




Know Your Catholic Faith
Catholicism - Melissa Knoblett-Aman, Editor

Knowing your Catholic faith has always been important, and even more so in this day and age. We must all, as individuals, know what our Church teaches and what she has always taught.




The Witches Tarot Review
Tarot - Linda J. Paul, Editor

Here is a new and exciting Tarot deck for the Pagan Tarot enthusiasts among us! It was love at first sight the minute I picked it up and shuffled through it. I knew it was a have to have deck for me. I highly recommend it for both Pagan and non Pagan readers alike.




Enchiladas Verde Recipe
Quick Cooking - Karen Hancock, Editor

Overloaded with Zucchini? These luscious enchiladas are loaded with zucchini and garden vegetables, as well as chicken. The green sauce is easy to make, and the dish can be made up to 3 days ahead.




Fresh Plum Gateau Recipe
Desserts - Karen Hancock, Editor

This easy cake showcases any kind of ripe plums you happen to have on hand. Prepare for raves!




Firsts in Space – Quiz
Astronomy - Mona Evans, Editor

We walked on the Moon. Rovers explore Mars. The International Space Station has been continuously inhabited since 2000. We're in contact with the world and the cosmos via satellite. We take it for granted, but there had to be a first time for everything. How many of these space firsts do you know?


| Google+ |
E D I T O R R E C O M M E N D E D
iPad Tablet Computer


The iPad is a great tablet computer for surfing the net, checking email, playing games - all while being light and portable.
Your Adoption Guidebook


Considering adoption and not sure where to start? This handy guidebook is for you! You'll find everything you need to decide if adoption is the right path and then learn how to begin the process.
Ultra Luster Waterless Car Wash


Ultra Luster Waterless Car Wash: Article Coming in Spring but you can buy it now! Waterless Car Washing just got easier and the results just got better! Get yours now at: UltraLuster Wash, Phone: 877-677-4463, Email: sales@ultralusterwash.com, distributors@ultralusterwash.com shipping@ultralusterwash.com customerservice@ultralusterwash.com