Beauty & Self
Books & Music
Career
Computers
Education
Family
Food & Wine
Health & Fitness
Hobbies & Crafts
Home & Garden
Money
News & Politics
Relationships
Religion & Spirituality
Sports
Travel & Culture
TV & Movies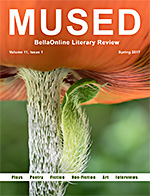 In our modern world of 24-hour diners and around-the-clock email, it sometimes seems as if we've lost track of nature's cycles. But then the Spring Equinox comes along and reminds us to pause. For thousands of years, cultures around the world have recognized this one special day as representing a balance of light and dark. It's a unique moment in time where our world settles in equilibrium – just for a breath. And then the sunlight shines out and pulls us deeper into Spring.

Enjoy the Mused Spring Equinox 2017 Issue



Strength Training Effective and Efficient
Exercise - Terri Lindy Johansen, Editor

When you're developing your workouts it is important to keep in mind that your thorough strength training program needs to include effectiveness and efficiency. Includes a great strength training program for beginners.




Strength Training Benefits
Holistic Health - Teresa Post, Editor

Have you been doing hours of aerobic exercises or yoga and you still cannot reach your fitness goals? You may want to try adding strength training to your exercise routine.




A Walk With Eve - Revised edition
Christian Living - Lynne Chapman, Editor

This devotional study focuses on the lives of more than forty women of the Bible. A Walk With Eve is perfect for individual devotional study or as a group discussion. Study for the greater meaning of what it means to follow Jesus every day.




Missing Pieces Book Review
Suspense / Thriller Books - Karen Hancock, Editor

When Sarah Quinlan visits her husband Jack's childhood home for the first time, she learns that she has been lied to and that Jack's dysfunctional family is involved in more than one suspicious death.




Art 3D Tatting by Yuuko Terachi
Tatting - Georgia Seitz, Editor

Art 3D Tatting by Yuuko Terachi Vol. 3 has Japanese and English text. This is a petite booklet of 46 pages in size 6" x 8", paper back. The full color photography of these tatted pieces of jewelry and their clear diagrams are enhanced with excellent photo tutorials.




Memorial Day allergies
Allergies and Colds - Sheree Welshimer, Editor

Prepare for peaking grass and tree pollens on Memorial Day weekend


| Google+ |
E D I T O R R E C O M M E N D E D
Eagle One is 2nd to None!


Everyone should have the basics to keep their rides shiny and road ready. The only way to do it is with Eagle One all day long!
Low Carb Charts


A must have reference guide for any low carber. Keep the carb counts of fruits, veggies, meats, alcoholic drinks and more at your fingertips.
Investing $10K in 2015


Have you received a windfall or inheritance? Confused how to manage it? Many people find the subject of investing to be complex. It doesn´t have to be. You can manage your money yourself.